In this article we look at data recovery services in and around Leicester
Crucial SSD has crashed
I have a Crucial BX500 (240gb, NTFS, partitioned) that was running windows 7 when it crashed. When I cut the power to restart, the SSD to become completely unreadable even in bios. I've tried the reset trick, powering it with no data access for 30mins but nothing has changed. I only really need a few mb of files and they're all .m (matlab) extension and I can probably give you the path to them. Can I drop off at your data recovery location at St Georges House in Leicester? A directory and file list would be useful too in case I see anything else I've lost. How much might this cost and how fast could you email/FTP the files?
Dropped external hard drive
I dropped my WD external hard drive. There were no physical signs of damage.
When plugged in to the usb, the normal whirring noise happened, but there were also beeping noises. The drive was not recognised.
I tried another computer, and the same thing happened, the only difference being that this time it was recognised as the F:drive, but it couldn't be opened.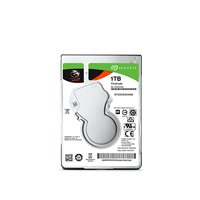 Broken Seagate hard drive
I have a broken Seagate (SRD00F1) 2TB hard drive: it beeps when plugged in and isn't recognised by any computer. I was exporting a large premiere pro file onto it when the programme and my laptop crashed – hard drive has been unusable since. I got it looked at a few years back and was told that the needle/head had been knocked off, and may have scratched disk.
Would there be a way to recover any files?
Not able to access files on external hard drive
I am not able to access files in my external hard drive. It is not recognised on my Mac and makes a noise when connected that lasts for a few minutes then stops. It usually lights up when connected, which has also now stopped. The model is a Seagate Backup Plus Slim. I'd like to know if I'm able to recover my files please.
Seagate HDD stopped working
A few weeks ago, my HDD Seagate ST2000LX001 stopped working. It received no physical damages. When I tried to power it, I realized that the engine was not making any noise. So, it would be an electronic problem. I bought the exact same model of hard drive and switched the two circuit boards. And by powering the faulty hard drive again, the engine started running, but the data was still unreadable. So, it would indeed be an electronic problem. Living in Leicester do you have a nearby location? it is impossible for me to come, but I can send you the defective disk (and also the new disk if you want).